Deciding whether or not to become a resident in a memory care community can be quite complicated and requires a great deal of thought. Memory care communities provide the support needed by those who are currently living with some sort of memory impairing condition such as dementia. At Highland Senior Living, we offer an outstanding memory care program supplemented by knowledgeable and friendly staff — contact us if you want to learn more about if memory care is the right choice for you or a loved one
What is Assisted Living?
Assisted living describes communities that benefit seniors who are in need of some assistance in their daily lives but do not need supervised medical care. Residents of this type of community will have access to staff 24 hours a day for emergency assistance and for assistance in necessary daily activities like managing medications, bathing, and dressing. Unlike nursing care and memory care, seniors who are a part of an assisted living community only receive assistance as it is needed to ensure that they retain as much independence as they possibly can in their private lives.
The Benefits of Assisted Living
Some recognizable benefits of assisted living include:
Independence — Seniors who are a part of an assisted living community can choose to live as independently as they desire in their private life while still having access to assistance from staff.
Emergency Support — Assisted living communities do not provide their residents regular medical care, but they do offer support for emergency medical situations. Depending on the community, a resident doctor or nurse will be present to help those dealing with an emergency situation.
Socialization — Living by oneself later on in life can become isolating and negatively affect the mental health of an individual. Assisted living communities provide an opportunity for relationship building through communal areas and planned social events and activities.
What is Memory Care?
Memory care describes a type of senior living that is specialized for seniors who are currently living with some sort of memory impairment. Seniors who are living with Alzheimer's and dementia require special care compared to older adults who are not memory-impaired — memory care communities offer services and programs that are designed to meet the specific needs of seniors dealing with memory impairment, and the staff of memory care communities will have to undergo specialized training to properly deliver care to those who are dealing with cognitive conditions like Alzheimer's and dementia.
The Benefits of Memory Care
Seniors dealing with memory impairment can greatly benefit from the environment and care created by memory care communities. Some of the benefits are:
Professional Caregivers — the staff involved in memory care communities must undergo specialized training compared to those who work in assisted living communities. This extra training enables memory care staff to meet the unique needs of those living with memory impairment.
Specialized Activities — The activities and events offered by memory care communities aim to be cognitively stimulating for those who are currently afflicted with memory impairment. Programming may include things like reminiscence therapy, puzzles, and music groups.
Safety — Enhanced safety features like monitoring systems and 24-hour staff helps ensure the safety of residents living in memory care communities. Some communities have preventive measures like non-slip floors, walk-in showers and handrails in the hallways.
Behavioral Support — Seniors with dementia may be more susceptible to developing mood disorders or heightened aggression; memory care communities offer specialized counseling and equip staff with the skills to care for individuals who are currently undergoing mood disorders due to memory impairment.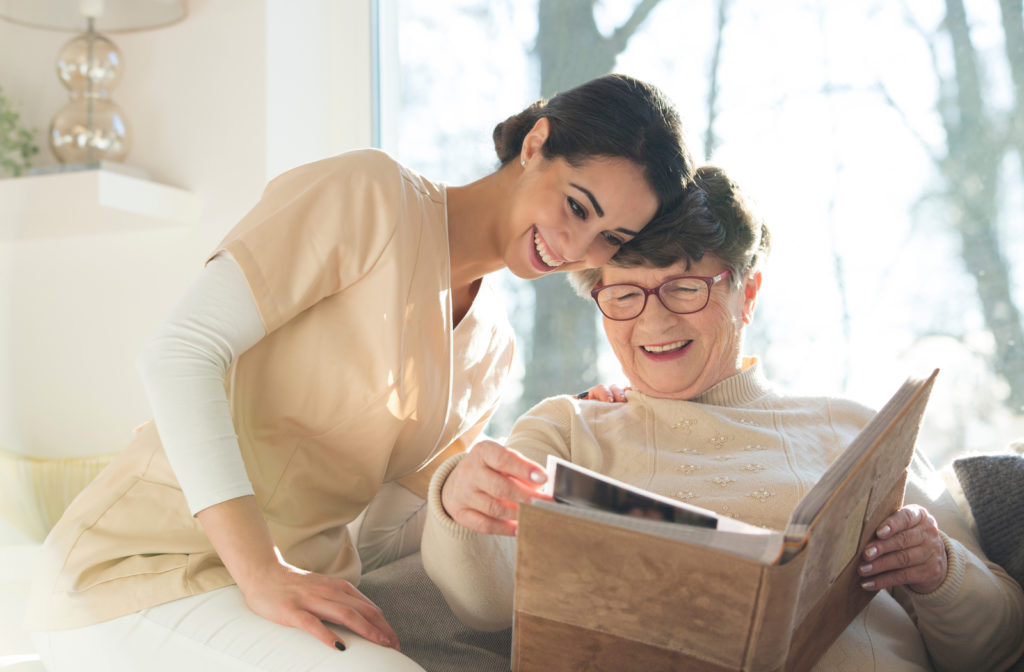 When to Transition from Assisted Living to Memory Care
It is important to take the time to properly deliberate whether or not you or a loved one would benefit from transitioning to living in memory care — it is not a decision to be taken lightly, and is often challenging to come to a conclusion. It may seem at the present moment that a family caregiver can handle the current situation if the memory impairment is in its early stages, but as the condition progresses it may come to light that the individual dealing with the impairment may benefit from specialized memory care.
Sometimes, waiting too long to transition into memory care can make the process much tougher and can even start to increase cognitive decline. By acclimating yourself or a loved one with a memory care community's layout and routines early on in the stages of memory loss can prevent unwanted difficulty when moving to a different level of care.
If you are considering memory care, it can be helpful to ask these questions:
Is full-time supervision necessary for you or your loved one? Memory care communities have staff available 24/7 for residents who may require a great amount of supervision. The registered nurses on-site will be able to learn the needs and preferences of individuals and create unique care plans that suit them specifically.
Do you or your loved one need assistance performing most or all of their activities of daily living? If the answer is yes, then it's likely time to transition to memory care.
Are you or your loved one able to communicate their wants and needs to family and friends? If the answer to this question is no, a memory care community may be greatly beneficial. The inability to properly communicate can potentially affect the safety of the one who is memory impaired and the people around them.
Join the Community at Highland Senior Living
If you decided that memory care would be beneficial for you or a loved one, contact Highland Senior Living to schedule a tour of our facility. Our professional staff will be able to walk you through the ins and outs of our community and provide you with a full overview of our programming and specialized services.